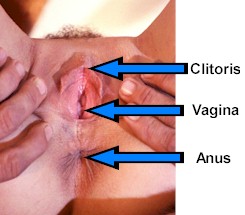 OK my pretties! Here's a close up picture of the clitoris, in all its relatively small glory. Now if you're religious or easily offended, you'd better stop looking at this, because this is what a woman's genitalia tends to look like, and some may find it rather shocking.
It's basically a small nodule the size of a pea located at the top of the vulva, right where the two inner lips divide.
In this picture, the woman's outer lips have been shaved, so it's easier to see. You can clearly see the hood of the clitoris, the sensitive bit of flesh that protects the clit, much as a foreskin does in a man.
The woman's vagina is located towards the bottom of the pink inner labia. The vaginal opening is being pulled open in this picture.
The brown patch is the woman's anus.
Remember that not all women are the same, so you may see a great deal of variation when it comes to clitorises, vulvas and vaginas. Nonetheless, the basic layout stays the same. It's certainly been that way since I was a young girlie, anyway.
Now you know where it is, click here to see what to do with it.
Ladies click here for Free Porn for Women
Note: The above photo is technically considered to be obscene under various censorship laws. However I have posted it on this free site because:
a) Female genitals are a normal part of the body and it's ridiculous that they should be considered obscene.
b) Most sex information sites refuse to put up this kind of photo which often leaves the reader still ignorant about female anatomy. As far as I'm concerned, a drawing is never as good as a photograph. Just ask the women who wrote Our Bodies, Ourselves.
- Grandma Scrotum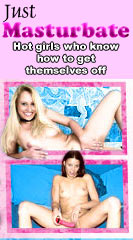 Right now you can get a free trial membership to Just Masturbate!
Thousands of horny women getting themselves off, playing with vibrators and rubbing their clits.
If you want to know how to do it right, these girls can show you!